Global mining community's support for Chileans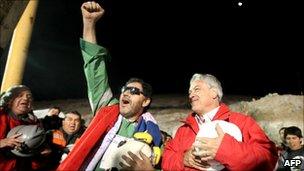 Of the many messages of support sent to the Chilean miners before and after their rescue, a large number came from members of the mining community worldwide.
The BBC received many of those messages from miners and their relatives who felt closely connected to the Chileans' ordeal through their own experiences.
Nelson, a Filipino miner working in Saudi Arabia, said he understood what they must have gone through before being rescued.
"I know how desolate it is underground, even without [having being in involved in] an accident.
"The trapped miners endured so much.
"Congratulations to the Chilean government and the technical volunteers from Chile and abroad for a job well done.
"The courage of the miners is very admirable."
Vladimir Klochkov, a Russian miner who spent two days underground as a result of an accident in the Zapadnaya mine in 2003, said he was astonished by the rescue capsule used in the operation.
"Can you believe they [managed to] develop it," he told the BBC's Russian Service.
"Ten minutes [inside the capsule] compared with two months that the miners had spent in the mine.
"I think [it must have] passed by in a flash."
Cindy Dingiswayo - one of 3,000 miners trapped underground for 40 hours after a mining accident disaster in Carletonville, South Africa in 2007 - expressed solidarity with the Chilean miners.
"They need to keep the strength they've had for the past two months to make their mining industry work the best way," she told BBC's Network Africa.
As each Chilean miner emerged from the shaft alive, teams at South Africa's mine rescue training site south of Johannesburg were smiling with pride, said the BBC's Karen Allen in the Carletonville gold mining area.
"Watching those guys emerge safely feels like another day in paradise," said one South African mine rescuer.
Josephine Phillips Janssen in Barry, South Wales - an area closely connected to mining - meanwhile wrote, in an email to the BBC News website, of how the experience of the Chilean miners brought home her own family's mining history.
"My brother and I recently discovered that our great-grandfather, Lewis Phillips, was killed in a mining accident in 1884, aged only 27, which brings this [the Chilean miners' rescue] closer to us.
"My brother is watching this in Norfolk and we are talking to each other online."
Jack Weatherspoon, from County Durham, UK, worked in the mining industry for 20 years, following in the footsteps of his father who died in a mining accident in 1959.
"I can't even imagine what these chaps in Chile felt," he said.
"The longest time I spent down a mine was an 18-hour day, when you had to work a double shift if there were problems with machinery.
"My dad was killed by a falling stone. It was 59 years ago, but it's still quite raw.
"You still feel it and this is one of the reasons I empathise with the miners in Chile.
"I feel sometimes people in the real world don't appreciate what it's really like to be down there."
John Robertson from New Cumnock in Ayrshire, Scotland, also praised the rescue effort in Chile, having himself survived a mining disaster in Ayrshire in 1950.
A team of 135 men were working in the mine when liquid peat broke through into the pit, sealing off escape routes.
Six men escaped, 13 were never found and 116 others were trapped deep within the mine for three days.
"I'll never forget the experience. It was quite a nightmare when we realised we were trapped and couldn't get out.
"There were 116 men together and we didn't know if we would escape.
"By the grace of God we were rescued. I'm still here and I'm nearly 83 now.
"Seeing my wife and family again was very emotional.
"These miners in Chile have been underground much longer than me, so I don't know what they must be thinking.
"If it was me I would have been worrying that I wouldn't get out. It really has been a great rescue effort."