Ecuador mine collapse traps four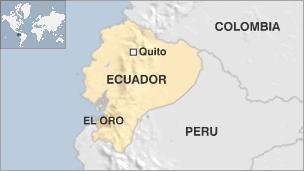 A cave-in at a gold mine in southern Ecuador has left four miners trapped 150m (492ft) underground.
Rescuers have been trying to push a metal pipe through the rubble to supply oxygen while they try to dig them out. It is not known if they are alive.
The accident happened at a small mine near the town of Portovelo in the province of El Oro.
The collapse comes two days after the dramatic rescue of 33 miners in Chile who were trapped for 69 days.
The collapse in Ecuador is thought to be have been caused by water filtration inside the mine.
Around 50 rescue workers were trying to clear the main entrance, Ecuador's deputy mining minister, Jorge Espinosa, said.
They were also preparing to dig another shaft in the hillside to reach the gallery where the men are thought to have been working, he added.