Brazil's Green Party to remain neutral in run-off vote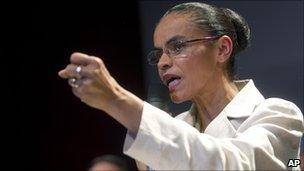 The defeated Green Party candidate in Brazil's presidential election has said she will remain neutral before a second round run-off vote on 31 October.
Marina Silva, who won 19% of the vote in the first round, said this would allow the Greens to boost their support and advance the environmental agenda.
"We should place ourselves in a position as moderators," she explained.
Dilma Rousseff of the Workers' Party is narrowly ahead of the Social Democratic Party's Jose Serra in recent polls.
Ms Rousseff won 46.9% in the first round to Mr Serra's 32.6%.
Ms Silva, a former environment minister, came third as expected in the election on 3 October, but correspondents say her unexpectedly strong showing means there are up to 20 million votes up for grabs.
Ms Rousseff and Mr Serra have both been courting Ms Silva, and the Green Party has been promised ministries in whichever administration takes office.
But on Sunday, Ms Silva announced at a party convention in Sao Paulo that she would endorse neither candidate.
Neutrality would give the party more influence in national debates, she said.
The decision was greeted by the convention audience with a long ovation.
Party leaders favoured declaring support for Mr Serra, but Ms Silva wanted those who backed her to make up their own minds, correspondents say.
Although Ms Silva stood for the Green Party, she comes from a very different political background from most of its members, they add.
A child of rubber-tappers from the Amazonian state of Acre, Ms Silva was illiterate until the age of 14.
She worked with the rainforest activist Chico Mendes, who was murdered in 1988, and she was appointed environment minister when Luiz Inacio Lula da Silva won the presidency in 2002.
But she left the government in May 2008, citing difficulties in pursuing an environmental agenda. She was vocal in blaming the deforestation of the Amazon on Brazilian cattle ranchers and farmers.
Related Internet Links
The BBC is not responsible for the content of external sites.