Flooding in Haiti leaves 10 dead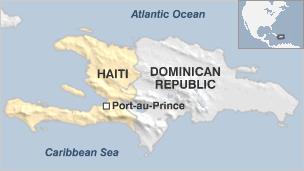 Flooding has killed at least 10 people in Haiti, officials have said.
Rivers burst their banks in the capital Port-au-Prince after torrential rain. Several people are reported missing.
Civil protection agency spokeswoman Nadia Lochard told the AFP news agency that in one incident a large pile of sand gave way, burying eight people.
Displaced people living in a tent city for victims of the January earthquake are strengthening their makeshift homes to cope with the rain.
Two bodies have been found in Fontmara, the site of one large camp sheltering some of the 1.5 million people made homeless by the disaster, which left more than 200,000 people dead.
Aid groups and officials overseeing the reconstruction had been on guard for heavy rains during the hurricane season. Canals were cleared and drainage ditches dug around some camps, the Associated Press reports.
The national meteorology centre has issued flash-flood warnings across Haiti's southern peninsula, which extends west from Port-au-Prince.