Mexico says final weight of marijuana haul 134 tonnes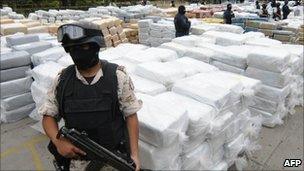 Mexican authorities say a record marijuana haul seized in the city of Tijuana is bigger than they had estimated.
The confiscated drugs weigh in at 134 tonnes rather than 105 tonnes as reported on Monday, police said.
It was the biggest seizure of marijuana packed for sale in the country's history, government security spokesman Alejandro Poire said.
The drugs probably belonged to the powerful Sinaloa cartel, he added.
Heavily armed troops and police seized the marijuana in three homes after a shootout with suspected traffickers in Tijuana, which lies just across the border from San Diego, California.
One officer and one suspect were injured in the exchange of fire, 11 suspects were arrested.
Initially the haul was weighed at 105 tonnes, which authorities said had a street value of at least $340m (£214m) traffickers.
The marijuana was found wrapped in more than 15,000 packages.
Mexico is the one of the world's largest exporters of marijuana, a drug that generates billions of dollars of revenues for violent trafficking gangs.
The Sinaloa cartel, lead by Joaquin Guzman, is one of the four main drug cartels in the country.
The rise in cannabis and also opium poppy cultivation indicates that the drug gangs are aiming to reduce their reliance on foreign suppliers of drugs, the report concluded.
More than 28,000 people have died in drug-related violence in Mexico since 2006.