Mexican student given police chief role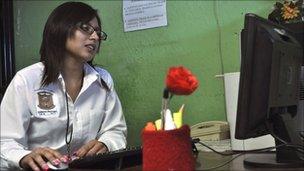 A 20-year-old criminology student has been made police chief in a border town in one of Mexico's most violent areas.
Marisol Valles got the job in Praxedis G Guerrero, in the northern state of Chihuahua, following an invitation from the mayor.
Chihuahua is the battleground for drugs cartels fighting over lucrative smuggling routes across the US border.
Asked if she feared for her safety, she told the BBC she was aware of the risks but felt it was the right decision.
Ms Valles has been studying criminology in Ciudad Juarez, about 100km from Praxedis, which has seen more than 6,000 killings since 2008
Now she has the title of director of municipal public security and is in charge of about a dozen officers.
Ms Valles , who has a baby son, said she decided to accept the invitation from the mayor after discussing the offer with her husband and other family members.
"All jobs carry an element of risk, and I am conscious of that, but I also know that I have to do something to combat the problems we face, and I took the decision to take on this project and it's the right decision," she told the BBC.
She said she was going to divide up the town, which has a population of some 98,500, into different areas to be patrolled all day by two police officers.
Ms Valles says her aim is to dispel the fear that people currently have, and her focus will be on community policing and crime prevention.
"The primary engine for a society to change is to have security. We need to do this for ourselves and our citizens.
"There has been a crisis of credibility in the authorities. But now the citizens are joining with the municipality and are putting their trust in them to resolve these problems," she said.
Last weekend, an official in the nearby town of El Porvenir was shot dead along with his son in Ciudad Juarez. In June, another local official was killed.
More than 28,000 people have died in Mexico in drug-related violence since 2006, when the government began deploying troops to combat the cartels.