Last two trapped Ecuadorean miners are found dead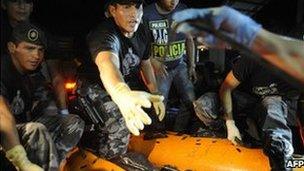 Rescuers in Ecuador have found the bodies of two missing miners caught by a cave-in at a gold mine.
The bodies of two other miners were recovered at the weekend.
The four men were trapped about 150m (490ft) underground on Friday.
The collapse at the Casa Negra gold, silver and copper mine, near the southern town of Portovelo, is thought to have been caused by a water leak which eroded structural supports.
There had been no signs of life since the accident happened.
The dangerous nature of mining work worldwide has received renewed attention in the wake of the successful rescue of the 33 trapped miners in Chile.