Brazil presidential candidate Serra hit during scuffle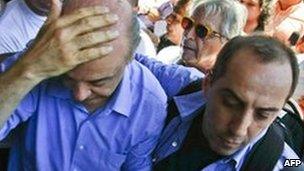 Brazilian presidential candidate Jose Serra was hit on the head by an object while out campaigning in Rio de Janeiro ahead of the 31 October run-off vote.
After a medical check-up, Mr Serra cancelled the rest of the day's agenda.
He blamed activists supporting Dilma Rousseff for the attack but officials from her Workers' Party denied any involvement.
Opinion polls still have Ms Rousseff ahead but the incident shows how the campaign race has intensified.
Mr Serra, 68, was struck while walking around the Rio de Janeiro district of Campo Grande.
He said he felt a bit dizzy, had a quick medical examination and was advised to take some rest.
Brazilian media reported that the object was a roll of tape but it was not clear who threw it.
"This is the assault troop of the Workers' Party," Mr Serra, the candidate of the Brazilian Social Democracy Party (PSDB) said.
But Workers' Party (PT) secretary general Jose Cardozo said the party had at no time instigated such an action, and the PT president, Jose Eduardo Dutra, said if whoever threw the object was a party member, they would be formally censured.
"An election campaign is about debating ideas, not a physical struggle," Mr Dutra told reporters in Brasilia.
David Fleischer, a political scientist at Brasilia University, told Reuters news agency that voters would be unlikely to be swayed by the scuffle, noting that Ms Rousseff had also been harassed by PSDB hecklers during the campaign.
Ms Rousseff won the first round on 3 October with 47% of the votes, short of the majority needed for outright victory, with Mr Serra trailing on 33%.
Since then, Ms Rousseff's lead has fluctuated in the opinion polls from between 12 and four points.
A key question is how some 20 million Brazilians who backed the Green Party's Marina Silva in the first round will vote.
Ms Silva has not endorsed any candidate.
Related Internet Links
The BBC is not responsible for the content of external sites.