Barbados Prime Minister David Thompson dies of cancer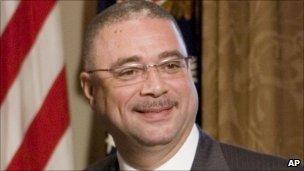 The prime minister of Barbados, David Thompson, has died of pancreatic cancer at the age of 48.
He died at his home in St Philip on the Caribbean island. He had been ill since March and had travelled several times to New York for treatment.
Mr Thompson was elected prime minister in January 2008.
Governor General Sir Clifford Husbands has appointed the attorney general and deputy PM Freundel Stuart to head the government until elections in 2012.
Denzil Douglas, the prime minister of St Kitts and Nevis, said Mr Thompson's death was a loss "not only the people of Barbados, but also the people of the Caribbean".
David John Howard Thompson, the sixth prime minister of Barbados, was born on 25 December 1961 in England but grew up in Barbados.
After a career in law he entered politics, winning a by-election for the Democratic Labour Party in 1987. He became head of the DLP in the early 1990s.
In the 2008 election, he led the DLP back to government, ending the Barbados Labour Party's 13-year run in power.
He lived and breathed Barbados. How very tragic that such a talented and decent man has been taken from us at precisely the time his country needs him most. So hard to make sense of it. What a test of faith. Dave, Christ Church, Barbados
Mr Thompson's passing is indeed a loss to my country and home. I would like to pay respect to his family, especially his wife and children. D.Grieves, Bridgetown, Barbados
My husband Michael went to school with David Thompson and has fond memories of him. I myself met Mr Thompson two years ago at a ball where he was the main speaker. He spoke with such grace and elegance. Meeting him was an honour and hearing him speak was an even greater honour. Mr David Thompson, a man of the soil, a man of the people, for the people. A man with so much to give in so little time. May he rest in peace. Shawn and Michael King, London, UK
David Thompson was a genuine hope for bringing Barbados forward into the 21st century. He was a shrewd politcal analyst, who understood the finite nature of the geo-global political environment. His plan for Barbados at the macro level was to make our tiny island nation the Singapore of the Caribbean. Although a master political thinker, he could disagree with a particular political persuasion, without being demonstrably disageeable. Victor Callender, Washington, US
Mr Thompson was indeed an asset to Barbados and the wider Caribbean. He was a humble man, very intelligent, astute. He could walk with kings or the common man. This is a great loss to this nation. If only more leaders of the world were like him! S. Holder, Bridgetown, Barbados
I followed his career as a young man growing up in politics and knew that someday he would lead our country. He was a man on a mission with strong conviction and purpose and while he was born in England his love for Barbados showed through and true. Vanessa Goodridge-Forde, Washington, US
This is a true loss to the world. I had the privilege to meet and interview David in Barbados at his office and again at his residence. He was one of the finest individuals I have ever spoken to. He will be dearly missed. John McTavish, Hamilton, Canada