Terrifying race against time with cholera in Haiti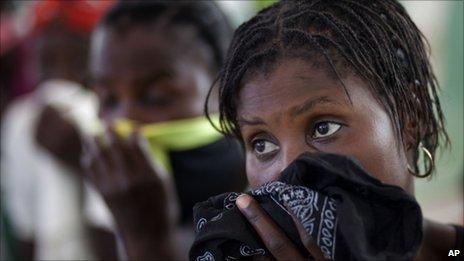 A cholera outbreak in Haiti has killed more than 200 people in northern and central Haiti. The BBC's Laura Trevelyan has visited the Saint Nicholas hospital in Saint-Marc, a port town in Artibonite department:
Every corner of this open air courtyard is filled with patients.
A woman weeps, her two children just confirmed as having cholera.
A father cradles his two-year-old, as the mother tries to get their unresponsive son to drink the rehydrating fluid which will help keep him alive.
An elderly woman lies motionless on a camp bed, covered with a blanket. She looks emaciated.
Everywhere I look, I see eyes which have sunk back into their sockets - the sign of advanced dehydration from diarrhoea.
A few hours on an intravenous drip can cure people in this state - or it may not be enough.
A young boy is sleeping, his breathing shallow - his mother watches intently.
Dr Koji Nakashima from Partners in Health, a group working with the Haitian health authorities throughout the country, has spent all day administering intravenous drips to patients.
"The terrifying thing about this disease is how quickly it can kill," he says.
"Patients come in and they're unresponsive. They don't have the resources to get here quickly - they come by donkey, on foot. It is a very challenging environment."
His colleague Dr Louise Ivers has been helping to manage admissions to the hospital.
People are coming in earlier on in the stages of cholera, she says, so there seem to be slightly fewer severe cases than there were. But the people keep coming.
Although the Artibonite river has not been officially confirmed as the source of the outbreak, she says that when the first patients started arriving on Tuesday, staff noticed a pattern: all those infected had used the Artibonite river, whether for play or washing.
This central region of Haiti was not directly affected by the earthquake in January which killed about 300,000 people. But many who lost their homes came here to live.
Dr Ivers says that meant already-crowded households have been taking on even more people, leading to stressful conditions.
The earthquake did not cause the cholera epidemic - but it certainly contributed to the conditions which have allowed it to spread.
The question now is how to contain the disease.
I have brought hand sanitiser and baby wipes - thinking that might help. The doctors explain that as the disease is transmitted by faeces, made watery by the diarrhoea, I must try to ensure that my boots are clean.
Haiti has not seen a cholera outbreak in 100 years, and that is partly why this one is spreading so fast: there is no immunity.
The country has been disproportionately affected by political clashes, natural disasters from tropical storms to earthquakes - and now this.
All eyes now are on the migration of the disease, as it moves towards the capital Port-au-Prince.