Cuba sets out rules and taxes for self-employed workers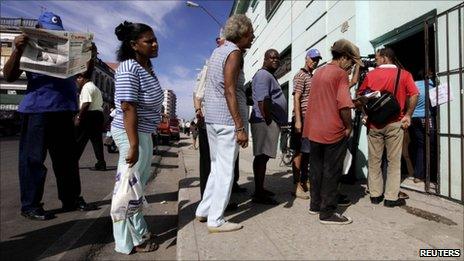 The Cuban authorities have set out in detail new rules and taxes for the self-employed and small businesses as they move to overhaul the economy.
Taxes will range from 25% for incomes more than 5,000 pesos (about $225, £142) a year to 50% for those earning more than 50,000 pesos (about $2,300).
Many self-employed business people will be allowed to hire workers.
The changes come as the government prepares to cut half a million state jobs by March next year.
Tax is a relatively new concept in Cuba, where the vast majority of people are employed by the state and nothing is deducted from the average salary of $20.
So there were lines of people on Monday to buy copies of the official government gazette which contained details of the hundreds of new rules and regulations covering would-be entrepreneurs.
The gazette also formally listed the 178 activities for which self-employment licences will be granted, including restaurateur, taxi driver, carpenter, electrician and hairdresser.
For the first time since 1968, when Cuba nationalised small businesses, the self-employed working in 83 of these job classes will be allowed to hire staff other than relatives, although they will be subject to a payroll tax.
The private sector taxes are:
sliding personal income tax ranging from 25% to 50%
10% sales tax
25% of income to be paid into social security system
25% payroll tax
However, there are also a range of deductions for raw materials, transportation and other business expenses.
The new rules follow last month's announcement that some half a million state employees would be laid off.
The government currently controls almost all aspects of the economy and employs about 85% of the official workforce, which is put at 5.1 million people.
As part of measures to restructure the economy, some 250,000 licences will be issued to allow people to run their own businesses.
So far no-one has been allowed to apply, but now the rules have been published, that could start in a matter of weeks, says the BBC's Michael Voss in Havana.
More than 140,000 people have self-employment licences, although thousands more work for themselves without official permission.
Lazaro Ramos, queuing outside a government office in Havana, told the Associated Press that he hoped to get permission to set up business making pinatas for children's parties.
"The economy is not good. But with this, I will be able to make ends meet," he said.
Officials noted people's details and told licence applicants to return in a fortnight for more information, AP reported.
Cuba's state-run economy, under a US trade embargo since the 1960s, has been gripped by a severe crisis in the past two years that has forced it to cut imports.
It has suffered from a fall in the price for its main export, nickel, as well as a decline in tourism.
Related Internet Links
The BBC is not responsible for the content of external sites.