Amazon tributary drops to record low in Brazil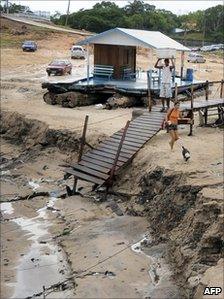 The worst drought in decades in the Amazon has seen a major river fall to its lowest level since records began in 1902, Brazilian officials say.
The Rio Negro, which last year was at a high of nearly 30m (100ft), was measured at a depth of 13.63m, the government's geological service said.
Dozens of communities who rely on the river for work and transport have been stranded.
The government has already announced some $13.5m (£8.6m) in emergency aid.
Officials from the Brazilian Geological Service (CPRM) measured the Rio Negro at Manaus where it flows into the Amazon River and is at its deepest, indicating that locations further upriver could be nearly dry.
They say the river could fall lower in the coming days, as it will take time for rain in other parts of the Amazon to begin to affect water levels.
"The water is expected to start rising again in about three to four weeks," hydrology expert Daniel Oliveira told the Associated Press.
In May last year, the Amazon basin was hit by flooding that saw the Rio Negro reach a record high of 29.77m.
Now not only the Rio Negro, but the Amazon and Solimoes rivers are at their lowest level in decades.
The government has been bringing in food, water and medicine by helicopter to isolated communities.
More than half of the 62 municipalities in the Brazilian Amazon have declared a state of emergency because of the drought, which has affected agriculture, fishing, and transport.
It is estimated that more than 60,000 families have been affected.
The rainy season in the region usually begins in November.
The Amazon is the world's second-longest river, after the Nile, but discharges far more water from its mouth and drains more territory.
Related Internet Links
The BBC is not responsible for the content of external sites.