Brazil's presidential rivals spar in TV debate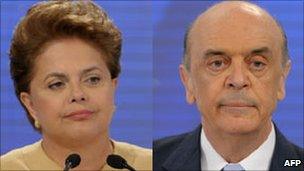 Brazilian presidential candidate Jose Serra has hit out at his rival for the presidency, Dilma Rousseff, attacking her party on corruption.
He was speaking in the penultimate TV debate ahead of Sunday's run-off vote.
Ms Rousseff, of the governing Workers' Party, responded by stressing her party's positive record on the economy.
Opinion polls give Ms Rousseff a lead of some 10 percentage points. If elected, she would be Brazil's first female president.
Ms Rousseff is former chief of staff to President Luiz Inacio Lula da Silva - and she has promised to continue his policies if she wins the vote.
President Lula, who enjoys approval ratings of over 80%, is stepping down after serving the maximum two consecutive terms.
In his harshest attack yet on his rival, Mr Serra of the Social Democratic Party (PSDB) accused Ms Rousseff of being tainted by a corruption scandal, which forced one of her top aides to resign.
"The problem is the Workers' Party, the candidate, and the government is tied up in scandals - every week there are three or four new ones," he said.
Mr Serra, who has held several top political jobs, including health minister and mayor of the biggest city, Sao Paulo, said: "I have 40 years of office and no scandals; a clean history of work and honesty before our people."
Speaking in Monday's debate, Ms Rousseff highlighted her party's strong track record on the economy.
And she said her policies, "aren't focused on the GDP number or interest rates, but on people."
Ms Rousseff just fell short of winning outright in the first round earlier this month.
The final TV debate is on Friday.
Related Internet Links
The BBC is not responsible for the content of external sites.