German 'peace activist' denies stalking Merkel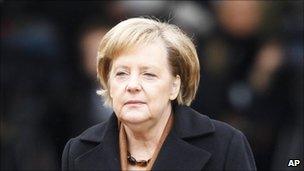 A man who twice got past police controls and into the grounds of German Chancellor Angela Merkel's weekend retreat has denied being a stalker.
The Berliner Zeitung newspaper reported that the man said he was a peace activist.
He told the paper he had handed Mrs Merkel a letter with a peace plan for the Middle East on his first visit.
He said he returned again on Sunday to the property because he was angry that she had not responded to his letter.
The paper said the 45-year-old man - named as Christian J - had a few weeks previously been turned away by police when he tried to get into the building where Mrs Merkel lives in Berlin.
He first went to the country residence in the Uckermark district, north of Berlin, on Sunday 17 October.
"Because no-one answered when I rang the bell, I went into the garden where I encountered the chancellor who was on the phone. I gave her a letter and left," the man was quoted as saying.
He said the letter set out details for the establishment of a Palestinian and an Israeli state, which he called the "Lazarus Goldschmidt plan".
He returned to the property a week later when only the chancellor's husband, Joachim Sauer, was at home.
He was detained and reports said that when he was questioned by the police his answers appeared confused.
On Tuesday a government spokesman confirmed a report in Bild newspaper of the security breaches and said the man had been taken into psychiatric care.
Berliner Zeitung said he was from the Mecklenburg region in northern Germany and had worked as a librarian and a freelance journalist.
It is unclear how he was twice able to get past the police controls and into Mrs Merkel's property.
A spokeswoman for the Federal Criminal Police Office said: "Security issues are not suitable for public discussion."
Related Internet Links
The BBC is not responsible for the content of external sites.