Legacy of leader who brought Argentina out of crisis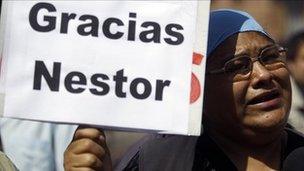 The death of Nestor Kirchner will leave a huge void in Argentine politics.
Just how big will only become apparent in the next few days and weeks since the former president, neither a great public speaker nor particularly charismatic, operated largely behind the scenes.
He won the presidency in 2003 as Argentina was emerging from a deep political and economic crisis, defaulting on a massive foreign debt and with hundreds of thousands of Argentines plunged below the poverty line.
Nestor Kirchner, of mixed German and Croatian descent, grew up in the far southern town of Rio Gallegos. As a result his followers were nicknamed "Penguins". He became town mayor and then provincial governor.
As president, he presided over a country emerging from crisis, helped enormously by a fast expanding soya industry.
But his relationship with the powerful agricultural lobby was always a difficult one. He accused many of them of being sympathetic to the brutal military government that terrorised Argentina between 1976 and 1983.
He and his wife, Cristina, hinted that they were victims of that regime and worked tirelessly to resume prosecutions of those accused of human rights violations during that period.
But they never shook off allegations that they, working as lawyers in Rio Gallegos, had benefited financially under military rule.
They certainly enjoyed great wealth, with properties all over Argentina and an especially luxurious holiday home in the Patagonian town of Calafate, which was where he was when he suffered his fatal heart attack.
Mr Kirchner surprised many when he stood aside to allow his wife to run as candidate in the 2007 presidential elections. The Argentine constitution allows just two consecutive four-year terms in office and it was widely expected that he would stand in 2011.
With a weak and fragmented opposition, Mr and Mrs Kirchner could have alternated in the presidency for the foreseeable future.
His influence did not diminish once he stood down. Nestor Kirchner took over as leader of the powerful Peronist party, he became a deputy in the Argentine parliament and was elected secretary general of the new South American regional group, Unasur.
Mr Kirchner enjoyed powerful trade union support and enjoyed a close relationship with the region's left wing leaders, especially Venezuela's Hugo Chavez.
His relationship with the then US President, George Bush, was always cold - they barely recognised one another's existence.
Despite his popular support and his influential contacts, Nestor Kirchner's weak point had long been his health. With shadows under his eyes and a pale complexion, he never looked very healthy.
He had already been taken to hospital twice this year, the last time in September for a heart by-pass operation. But within days, he was back on his feet, appearing with Cristina at political rallies, seemingly ignoring the pleas of his doctors to take it easy.
The tributes have been flooding in from both former friends and foes.
The Vice-President, Julio Cobos, with whom Mr Kirchner had a prickly relationship, called him a great president.
The President of Brazil, Luiz Inacio Lula da Silva, said he was greatly saddened. The Venezuelan President, Hugo Chavez, said Mr Kirchner had gone when he still had so much to give.
Flags are flying at half-mast and acts of mourning are being organised across Argentina.
But the process has already begun of assessing exactly what Nestor Kirchner contributed to Argentina - both positive and negative. He polarised opinion but what none will deny is that with his death, a huge void has been left in Argentina's political landscape.
Related Internet Links
The BBC is not responsible for the content of external sites.