Venezuela business leaders attacked at gunpoint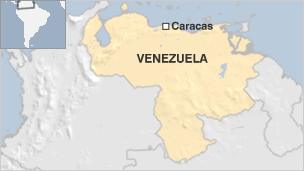 The government of Venezuela has promised a full investigation after some of the country's top business leaders were attacked in Caracas.
Gunmen opened fire on a car carrying leaders of the national business federation, wounding one of them before hijacking the vehicle.
They were held at gunpoint for two hours and beaten before being released.
Police said the motive appeared to be robbery. Venezuela has been suffering a surge in violent crime in recent years.
Caracas has one of the highest murder rates in the world.
The head of business federation Fedecamaras, Noel Alvarez, said he was travelling to his offices in a car with several colleagues when they were overtaken by gunmen in a speeding vehicle.
"When we braked, they began shooting at us without saying a word. The former president [of the federation] Albis Munoz was hit by three bullets", he said.
"They made us get out of the car and began to hit us. They drove us around Caracas for two hours, and then they released us".
The gunmen dumped Ms Munoz at a hospital. Medical sources later said she was in a stable condition.
Mr Alvarez and the Fedecamaras treasurer Ernesto Villasmil were dropped off on a motorway slip road.
The gunmen stole some of their belongings.
Venezuela's interior minister, Tareck El Aissami, said the police had its best detectives on the case, and promised the investigation would be "transparent and objective".
"All the evidence, including the recovered vehicle and interviews with those affected, everything points to the motive of robbery, although we do not rule out other hypotheses", Mr El Aissami said.
Mr Alvarez, who is a prominent critic of Venezuela's left-wing president Hugo Chavez, said the government had to do more to tackle violent crime.
"But I do want to say that this forms part of the climate of insecurity that we have in Venezuela, and the government has the responsibility to try to establish greater security".
Fedecamaras has been a strong opponent of President Chavez's policy of nationalising some businesses, says the BBC's Yolanda Valery in Caracas.
In June he called the business federation "one of the biggest obstacles to progress" in Venezuela and "enemies of the nation".