Brazil police battle Rio de Janeiro gang violence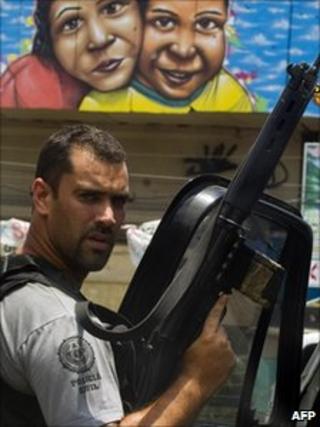 Police in the Brazilian city of Rio de Janeiro have launched a major operation to try to stop a wave of violence by criminal gangs.
For three days, suspected gang members have been blocking roads, burning cars and shooting at police stations.
Military police have been deployed in 17 different slum districts.
Rio's governor says the violence is retaliation by drugs gangs who have been driven out of some areas by a police pacification programme.
More than 1,000 officers had been taken away from desk jobs to join the surge on the streets, the military police said, and 300 extra motorcycle police were on patrol.
Rio de Janeiro's state governor Sergio Cabral has also asked the central government for police reinforcements from outside Rio to keep the main highways open.
Two suspected gang member have been shot dead.
More than eight others have been arrested, including four suspects who were found with petrol bombs in the Copacabana beach neighbourhood.
Orchestrated attacks
Starting on Saturday night, armed men have been blocking some of the main roads leading out of Rio, robbing motorists and setting their vehicles on fire.
The authorities are convinced that the attacks are being orchestrated by drugs gangs in retaliation for being forced out of their traditional strongholds in some slum districts by police pacification units.
"Without doubt these attacks are related to the reconquest of territory and the new policy of public security in Rio de Janeiro," Mr Cabral said.
"We are not going to retreat in this policy. We are going to push forward, pacifying communities and bringing peace to the population."
Rio's police have been taking back control of poor neighbourhoods, known as favelas, that have for years been controlled by heavily armed drug trafficking gangs.
The pacification programme is aimed at improving security and the rule of law in Rio, which will host the Fifa football World Cup in 2014 and the Olympic Games in 2016.