Brazilian soldiers deployed to Rio favela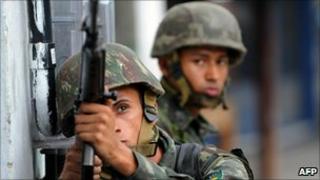 Brazilian soldiers have joined forces with police in Rio de Janeiro to drive out suspected drug traffickers from one of the city's poor areas.
Defence Minister Nelson Jobim said he had deployed 800 soldiers, 10 armoured vehicles and two helicopters to gain control of the Penha and Alemao areas.
Hundreds of suspected gang members were seen fleeing there after police took control of neighbouring Vila Cruzeiro.
Thirty-five people are reported to have died in six days of clashes.
'Necessary confrontation'
Mr Jobim told a news conference that "the confrontation is necessary so we can have a state in peace".
Police said Thiago Ferreira Faria, 24, whom they accuse of leading a drugs ring in the Alemao area of Rio, was shot dead on Friday during the confrontation.
At least three soldiers and six civilians were injured, among them a two-year-old girl hit by a bullet in her arm.
Gen Fernando Sardemberg, one of the commanders deployed to Alemao, told Brazilian newspaper O Globo the soldiers were surrounding the neighbourhood to prevent the alleged gang members from fleeing, but stressed they would not harass local residents or motorists.
And spokesman for the military Enio Zanan said that even though the soldiers had been fired upon, they had not fired back out of fear of hitting civilians.
The massive military deployment comes a day after the authorities took control of the Vila Cruzeiro neighbourhood, a move Rio state governor Sergio Cabral called "historic".
Rio's favelas have for years been controlled by heavily armed drug-trafficking gangs.
The city's pacification programme is aimed at improving security and the rule of law in the run-up to Brazil's hosting of the football World Cup in 2014 and Rio's staging of the Olympic Games two years later.