Mexico kidnap 'release' in doubt as reports conflict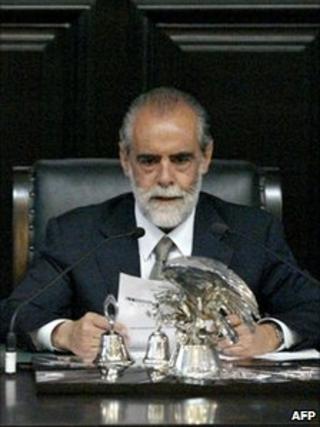 There is confusion over the fate of a kidnapped Mexican politican, Diego Fernandez de Cevallos, after a newspaper reported he had been freed.
The Mexican daily paper El Universal, quoting family members, said he was "safe and sound" at home after being freed on Friday night.
But another paper dismissed the report and government figures refused to confirm it.
Mr Fernandez de Cevallos, 69, was seized in May.
The El Universal report said that the family had paid a ransom of around $20m (£12.8m), although they did not confirm this.
"Everything is fine, he is OK and everything came out well," a family member was reported as saying.
But the Milenio newspaper said Mr Fernandez de Cevallos was still being held hostage.
And the Reuters news agency quoted an unnamed government official as saying: "He has not been released."
Presidential candidate
Mr Fernandez de Cevallos served as a senator and congressman while also pursuing a successful career as a lawyer, winning some of the country's biggest court judgements, often in suits against government agencies.
He was the 1994 presidential candidate of the governing National Action Party, finishing second to Ernesto Zedillo.
Correspondents say kidnapping is rife in Mexico, which is in the grip of a battle between the security forces and drug cartels.
Tens of thousands of people have been killed since late 2006, when President Felipe Calderon launched a crackdown on the drugs cartels.