Brazil's Lula hails Rio police operation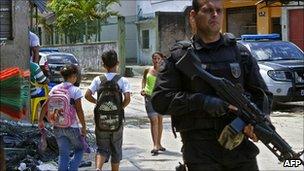 Brazilian President Luiz Inacio Lula da Silva has praised a police and military operation to take control of a drug traffickers' stronghold in the city of Rio de Janeiro.
President Lula said the occupation of the Complexo do Alemao favela was just the start of a campaign to rid Rio of drugs gangs.
"We will win this war," he said.
Some 2,600 police and paratroopers moved into the favela on Sunday, backed by armoured vehicles and helicopters.
President Lula said the federal government had given Rio de Janeiro state authorities everything they asked for to support the operation.
"I think this operation is proving a success. Obviously it is not over yet, it has only just begun", he said.
"The important thing is we have taken the first step. We went in, we are inside Complexo do Alemao".
President Lula added that he had already been planning to visit the favela, and would now come with "much more pleasure".
The Complexo do Alemao has been a stronghold of drugs traffickers and virtual no-go area for police for decades.
But when the security forces moved in on Sunday they met less resistance than expected.
They seized weapons and large quantities of drugs, including more than 30 tonnes of marijuana and 200kg (440lb) of cocaine.
More than 40 suspects were arrested, including several alleged leaders of the drugs gangs.
Among them was Eliseu de Souza, known as Zeu, who was found guilty of involvement in the 2002 torture and murder of an investigative journalist, Tim Lopes.
Police have been searching door-to-door and have also gone down into the sewers in pursuit of hundreds more drug traffickers who are thought to have been in the area.
The operation follows a week of clashes between security forces and suspected drug dealers in several slums in the Rio area, with drug gangs fighting back with gunfire and setting vehicles on fire. At least 45 people have been killed.
The suspected traffickers fled to Alemao from the Vila Cruzeiro favela after police took control of it earlier this week.
Within hours of Sunday's operation, police said they had taken control of the favela.
Rio state governor said the military would stay in the area for several months until a community police presence was established.
The authorities say they are trying make the city safer ahead of the World Cup in 2014 and Olympic Games in 2016.
But human rights activists have accused Brazil of being too heavy-handed in its approach.
"The police so far this week in operations in other communities have killed over 50 people, including in a tragic accident a 14-year-old girl," said Patrick Wilcken, Amnesty International's Brazil researcher.
"And one has to remember that this community has a long history of these very militarised campaigns by the police, and in 2007 the police did a huge operation, stormed the community and shot dead 19 people, and then left," he said.