Brazil clown Tiririca cleared for congress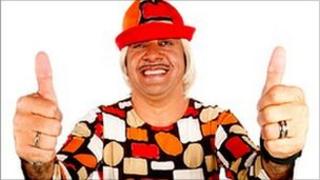 A Brazilian clown who was elected to congress in October has had the last laugh, after a court ruled that he did meet the literacy requirement for public office.
Francisco Oliveira Silva - known as Tiririca or Grumpy - won more votes than any other candidate for congress.
His victory was challenged after newspapers reported that he could not read or write.
But he has now passed a basic literacy test, a judge in Sao Paulo said.
Tiririca showed "a minimum of intellect concerning the content of a text despite difficulties in writing", Judge Aloisio Sergio Rezende Silveira said.
"The electoral court considers someone to be ineligible only if they are totally illiterate," he said in an official statement.
Tiririca can now take up his seat as a federal deputy for Sao Paulo.
The 45-year-old television clown won more than 1.3 million votes after campaigning with slogans such as: "It can't get any worse."
"What does a federal deputy do? Truly, I don't know. But vote for me and I will find out for you," was another of his messages.
Critics, including some other lawmakers, accused him of bringing Brazil's congress into disrepute, and challenged his election on literacy grounds.
President Luiz Inacio Lula da Silva - who is a former shoeshine boy - called the demand for a literacy test an "idiocy" that disrespected the voters.
"Tiririca is the face of society," he added.
The television clown was one of several celebrities from the world of sport and entertainment who were elected to congress.
The way the Chamber of Deputies is formed - by an open-list proportional representation system - makes it easier for celebrity candidates to win office.
Analysts say their popularity also reflects disillusion with mainstream politicians, following numerous corruption scandals.