Easter Island land dispute clashes leave dozens injured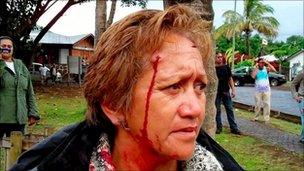 At least 25 people have been injured during clashes between Chilean police and local people on Easter Island.
Witnesses say police fired pellets as they tried to evict several indigenous inhabitants from buildings they occupied earlier this year.
The Rapa Nui group say the buildings were illegally taken from their ancestors several generations ago.
Easter Island, which was annexed by Chile in 1888, is a Unesco World Heritage Site.
Chilean security forces began their operation in the early hours of the morning, says reports.
When the group refused to leave and others gathered at the scene, they opened fire with pellet guns.
Officials said 17 police officers and eight civilians had been injured. But the Rapa Nui put the number of injured locals at 19, and denied that any police had been hurt.
A number of people were also arrested and at least one person was air-lifted to the mainland for medical treatment.
"They injured at least 23 of our brothers and sisters, three of them seriously," Edi Tuki, a relative of one of those injured, told the Efe news agency.
"One was shot in the eye with a buckshot pellet from just a metre away."
Maka Atan, a Rapa Nui lawyer, told the Associated Press police had been "shooting to kill". He said he was shot in the back by pellets.
"It seems like this is going to end with them killing the Rapa Nui," he said.
Rapa Nui is the official name for the remote Easter Island, which lies more than 3,200 km (2,000 miles) off the west coast of Chile.
The tiny island has a population of about 4,000 but is best known for its ancient giant carved stone heads, known as Moais.
The indigenous Rapa Nui people have been protesting for the past three months about what say are plans to develop the island, as immigration and tourism increase.
They are demanding the return of ancestral land they say was unlawfully seized from their grandparents.
"The land on this island has always been Rapa Nui. That's why we're asking for our land to be returned," Mr Maka told AP.
"Nobody has said this is a normal situation," said Raul Celis, the governor of Valparaiso who also has responsibility for Easter Island. "There was an eviction, and buildings had been occupied illegally for several months."
Mr Celis said the evictions would continue.
Media reports said police reinforcements were travelling to the island from the mainland.
Related Internet Links
The BBC is not responsible for the content of external sites.