Haiti cholera: UN peacekeepers to blame, report says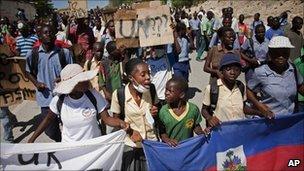 UN peacekeepers were the most likely source of the cholera epidemic sweeping Haiti, according to a leaked report by a French disease expert.
Epidemiologist Renaud Piarroux conducted research in Haiti on behalf of the French and Haitian governments.
Sources who saw the report said it had evidence the outbreak was caused by river contamination by Nepalese troops.
The UN said it had neither accepted nor dismissed the findings. The Nepalese army condemned the study as unfounded.
The cholera epidemic has killed 2120 people, and nearly 100,000 cases have been treated, according to the Haitian government.
The report by Mr Piarroux found that the source of the outbreak was a Nepalese peacekeeping base, whose toilets contaminated the Artibonite river, according to a copy seen by the Associated Press news agency.
The river was the main focus of the outbreak when it began in October, but cholera has since spread throughout the country.
The UN mission in Haiti, Minustah, said there was "no conclusive evidence" that UN peacekeepers were the source of the epidemic.
Minustah said the report by the French expert was "one report among many," but it was taking it "very seriously".
A spokesman for the Nepalese army told the French news agency AFP the report's conclusion was "hypothetical".
"We strongly condemn the making of such allegations with no firm evidence or facts," said Raminda Chhetri, speaking in the Nepalese capital, Kathmandu.
Many Haitians have blamed the Nepalese peacekeepers for bringing cholera to the country, and there have been violent demonstrations against them.
The strain of cholera had already been matched to one from South Asia, although it is present in other Latin American countries.
In an interview last week, Mr Piarroux said it was clear cholera had been introduced to Haiti, which had not seen an outbreak of the disease for more than a century.
"It started in the centre of the country, not by the sea, nor in the refugee camps. The epidemic can't be of local origin. That's to say, it was imported," he told the French news agency, AFP.
UN peacekeepers have been in Haiti since 2004 to help restore political stability after years of unrest.
They have also been helping relief efforts following last January's massive earthquake, which killed about 230,000 people.
Related Internet Links
The BBC is not responsible for the content of external sites.