Colombian President Santos urges landslide evacuation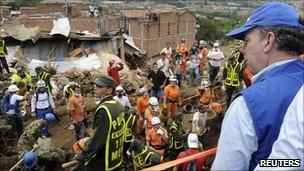 Colombian President Juan Manuel Santos has urged people to evacuate a hillside neighbourhood near Medellin, after a landslide buried around 50 houses.
More than 30 bodies have been recovered since the landslide in Bello on Sunday, about a third of them children.
More than 80 people are still missing, but rescue efforts have been hampered by continued heavy rains.
President Santos said the collapse of the hillside was a "tragedy foretold" that could be repeated.
"To all the residents of this high risk zone, I ask you: in so far as is possible, let us evacuate this area. They have shown me places where what happened on Sunday could happen again and we have to avoid that," he said.
Mr Santos promised his government would build 1000 new homes in Bello for people whose houses were destroyed or had to be evacuated, and would help pay their rent until they could be re-housed.
He was speaking during a visit to the scene of the disaster, where hundreds of rescue workers and desperate residents have been digging through the mud in search of the missing.
"We are going to work 24 hours a day until we recover the last body, it is the least we can do", Mr Santos said.
The landslide in the La Gabriela district of Bello on the outskirts of Medellin is the deadliest single incident in what has been Colombia's worst rainy season in decades.
Across the country, around 200 people have died as a result of floods and landslides and hundreds of thousands have had to leave their homes.
President Santos is considering declaring a state of emergency, which would give his government more powers to address the crisis by raising emergency loans and even taxes.
"The tragedy has overwhelmed the current capacity of the state to confront it," he said.
Neighbouring Venezuela is also experiencing heavy flooding.
Some 100,000 people have been driven from their homes there.
President Hugo Chavez has said his government plans to take over private land to build new houses for some of those forced to abandon their homes.
Venezuela has also been offered help by its allies in Argentina, Bolivia, Nicaragua, and Brazil.
President Chavez said he had asked Brazil for military bridge-building equipment to replace vital road bridges that had been swept away.
The May-November rainy season in Mexico, Central America and the northern part of South America has been severe this year.
The extreme weather is attributed to the La Nina climatic phenomenon, which is caused by colder than usual water currents along the Pacific coast.
Related Internet Links
The BBC is not responsible for the content of external sites.