Brazil's Dilma Rousseff faces tough presidential task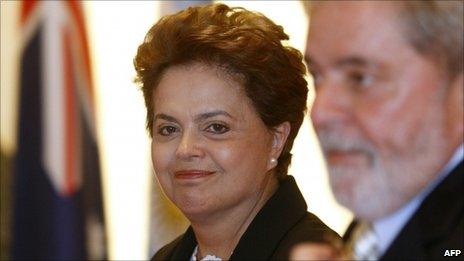 With the inauguration on 1 January of Dilma Rousseff, a 63-year-old economist with unproven political skills, Brazil has its first woman president. Analyst Paulo Sotero looks at the challenges she faces in governing Latin America's biggest nation.
A technocrat who has never occupied elective office, Dilma, as Brazilians know her, was elected last October thanks to her political mentor and predecessor, the immensely popular President Luiz Inacio Lula da Silva.
The business of governing Brazil is first and foremost about putting together and managing a coalition of political parties that span the ideological spectrum, share a voracious appetite for government jobs and public resources, and see in every piece of legislation an opportunity to extract a concession from the executive.
In such an environment, having the support of 60% of Congress, as Ms Rousseff does, may be as much of a curse as a blessing.
However, since being elected, Ms Rousseff has surprised her adversaries by avoiding debilitating negotiations with the leaders of the 10 parties of her presidential coalition.
She has filled about half of the 37-minister cabinet with people already serving under Lula, picked low-profile figures for less important positions and appointed some well-regarded professionals for key posts - such as Chicago-trained economist Alexandre Tombini as Central Bank Governor.
Wisely, she assembled an inner cabinet of moderate, competent and well regarded advisors to run the government under the co-ordination of a highly skilled chief of staff, Antonio Palocci.
He was Lula's first finance minister and played a central role to ensure the continuation of the economic stabilisation policies adopted by Fernando Henrique Cardoso, Lula's predecessor.
Ms Rousseff is known to favour a strong state role in the economy and presided over a reform of the oil sector that gave state company Petrobras a virtual monopoly over Brazil's huge new findings of offshore oil. She has repeatedly clashed in the past with the more liberal Mr Palocci - so their current collaboration could prove interesting.
Expectation among analysts is that the new president will gradually replace some ministers as she emerges from Lula's shadow and asserts her own leadership.
She will be keen to demonstrate she is not a mere instrument of her creator, charged with keeping the presidential seat warm for his return in 2014, as critics allege.
Ms Rousseff, a strong personality with a famously short temper, started to differentiate herself from Lula on foreign policy after the election, leading some analysts to speculate that the two may eventually clash if Lula fails in his promise to help her behind the scenes and stay away from the limelight.
In her victory speech, Ms Rousseff highlighted the importance of a free press, which came under fire by Lula in his final year in government.
Brutally tortured while in jail in the early 1970s for her participation in the armed resistance against Brazil's then military government, Ms Rousseff has insisted she will not compromise in the defence of human rights.
In her first interview to the foreign media as president-elect, she told the Washington Post that Brazil's abstention in a recent UN vote condemning stoning to death as a method of execution was "an error."
She also signalled her misgivings, amply shared by Brazilians, about Lula's failed attempt to mediate in the nuclear dispute between Iran and the international community, an initiative that proved costly to Brazil's international prestige and its relations with the US.
As Lula was making gratuitous public attacks against the US in the waning days of his presidency, Ms Rousseff expressed her interest in developing a closer and more fruitful dialogue with Washington, indicating that she would adopt a more measured international strategy.
Her choice of of Antonio Patriota, a talented diplomat and former ambassador to the US, as the next foreign minister was well received in Washington.
Ms Rousseff lacks Lula's natural talent to play on the world stage. Her view is that Brazilian foreign policy, while maintaining its global reach, should be refocused on underpinning domestic efforts to keep the nation on its current path of sustainable economic growth and poverty reduction.
With Brazil's domestic savings and investment rates stuck at 17% (in contrast with 35% in India and 50% in China) and the public sector investment capacity limited by growing government expenditure, the Rousseff government will have to foster an environment that can attract foreign capital.
Her immediate challenge is to reduce current public expenditure - not a popular move among her Workers Party and the other parties of her coalition - and enable the Central Bank to lower the domestic interest rate of 10.75%, the highest among emerging economies.
Failure to do so will inevitably lead to tighter monetary policy to keep inflation within the target of 4.5%. This would slow growth, make Brazil attractive to more hot money and exacerbate the over-valuation of the currency - the real - further reducing the international competitiveness of the Brazilian economy.
Other pressing issues are:
upgrading the deficient infrastructure of ports, airports and roads
improving the education system
advancing microeconomic reforms, from taxation to customs procedures.
It will also fall to President Rousseff to prepare Brazil to host major international events: the Rio Plus 20 global environmental summit in 2012; the Fifa World Cup in 2014 and the Summer Olympics in 2016.
This means international attention will be on Brazil, as the country experiments with innovative policies to reduce crime and violence in major cities.
There is also increasing pressure from Brazil's expanding middle class to deal with rule of law issues, such as a dysfunctional and corrupt political system perpetuated by the impunity enjoyed by those in powerful positions.
Once discounted as little more than Lula's political puppet, Dilma Rousseff has been able to generate positive expectations among Brazilians since her election.
Being the first woman to reach the presidency in Latin America's biggest nation, however, will only add to her burden of succeeding the most popular Brazilian leader in history.
Related Internet Links
The BBC is not responsible for the content of external sites.