Wikileaks: Brazil President Lula backs Julian Assange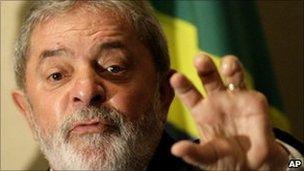 Brazilian President Luiz Inacio Lula da Silva has criticised the arrest of the Wikileaks founder Julian Assange as "an attack on freedom of expression".
President Lula said the internet publication of secret US cables had "exposed a diplomacy that appeared untouchable".
He also criticised other governments for failing to condemn the arrest.
Mr Assange was detained in the UK on Tuesday over alleged sex offences in Sweden.
"They have arrested him and I don't hear so much as a single protest for freedom of expression", President Lula said at a public event in Brasilia.
The Russian Prime Minister Vladimir Putin has also criticised Mr Assange's arrest, saying it contradicted the West's avowed democratic values.
"Why is Mr Assange in prison?" Mr Putin asked at a press conference. "Is this democracy?"
US authorities have made it clear they they hope to prosecute Mr Assange over the release of thousands of leaked classified diplomatic cables.
Related Internet Links
The BBC is not responsible for the content of external sites.