Empty chair as Cuban dissident Farinas given EU prize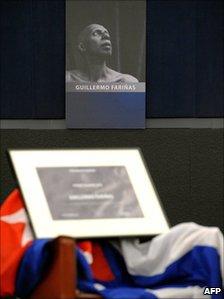 Cuban dissident Guillermo Farinas has been represented by an empty chair at a ceremony to award him the EU's Sakharov Prize for Freedom of Thought.
Mr Farinas was not allowed to leave Cuba to collect the award.
In a written message to MEPs, he said he accepted the prize "because I feel myself to be a tiny part of the rebellious spirit that nourishes the people I am proud to belong to".
He also urged them "not to give in to the claims of the Cuban ruling elite".
Mr Farinas came close to death earlier this year after staging a 134-day hunger strike in protest at the death of fellow dissident Orlando Zapata.
He ended the protest when Cuban President Raul Castro authorised the release of 52 of the island's most prominent prisoners of conscience.
He has spent 11-and-a-half years in prison for a variety of offences.
Echoing the response of the Nobel Committee to China's refusal to let Liu Xiaobo attend last week's peace prize ceremony, the European Parliament left the Sakharov Prize on a chair draped in a Cuban flag.
"This empty chair demonstrates just how much this award was necessary," said the parliament's president, Jerzy Buzek.
In a video address, Mr Farinas said the travel ban imposed by Havana was "the most irrefutable witness to the fact that unfortunately, nothing has changed in the autocratic system ruling my country".
"In the minds of Cuba's current rulers, we Cuban citizens are just like the slaves from whom I am descended, kidnapped in Africa and brought to the Americas by force," he told the audience in Strasbourg.
He urged the EU to maintain the 1996 "Common Position" on Cuba until all political prisoners were released; human rights were respected; attacks on the opposition by the security forces and government supporters were ended; opposition parties, trade unions and independent media were permitted; and members of the diaspora were allowed to participate in Cuban life.
"My deepest hope is that you will not allow yourselves to be deceived by the siren songs of a cruel regime practising 'wild communism'."
"The old men who govern Cuba, in their daily contempt for those they govern, do not wish to understand that they should be public servants, and that all genuine public servants give their compatriots the possibility of replacing them or endorsing them," he added.
The EU's foreign policy chief, Baroness Ashton, pledged afterwards that the bloc would continue to press Cuba on human rights issues.
Mr Farinas is the third Cuban to receive the prize. Oswaldo Paya won it in 2002, while the Ladies in White (Las Damas de Blanca) - a group of wives, mothers and sisters of jailed dissidents - were honoured in 2005.
Related Internet Links
The BBC is not responsible for the content of external sites.