Brazil architect Niemeyer opens museum at 103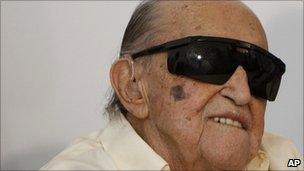 Celebrated Brazilian architect Oscar Niemeyer has marked his 103rd birthday by opening a museum of his work.
The Oscar Niemeyer Foundation outside Rio de Janeiro houses drawings and models from the modernist architect's 70-year career.
Mr Niemeyer designed the futuristic buildings of the capital, Brasilia, as well as the UN building in New York.
His latest work - the Oscar Niemeyer cultural centre in Aviles in northern Spain - also opened on Wednesday.
"My friends have come to see me, how nice," Mr Niemeyer told reporters at the inauguration of his foundation in the city of Niteroi, outside Rio de Janeiro.
Designed by Mr Niemeyer himself, the museum building boasts the sensuous concrete curves that define his distinctive modernist style and have made him one of the world's most famous architects.
Niteroi is already home to a number of classic Niemeyer buildings, including a contemporary art museum and a theatre.
On the same day the Oscar Niemeyer Foundation was opened in Brazil, officials in Aviles in northern Spain opened the main dome of the Oscar Niemeyer Cultural Centre, which he also designed.
The authorities in Aviles hope the centre will revive the city's fortunes in the same way the Gugenheim museum helped transform the city of Bilbao from a declining industrial city into a cultural capital.
Mr Niemeyer is most famous for designing the buildings of Brasilia, which was built as a new federal capital for Brazil in the late 1950s.
His bold futuristic designs made the new capital a dramatic statement of confidence in the future of Brazil, and an icon of modern architecture.
A student of the French architect Le Corbusier, he developed a distinctive style defined by stark concrete and sweeping curves.
He famously once said the stylized swoops in his buildings were inspired by the curves of Brazilian women.
Mr Niemeyer went on to create more than 600 buildings around the world.
Despite recurring illness over the past year, he is still at work, and still showing his flair for dramatic architecture.
Related Internet Links
The BBC is not responsible for the content of external sites.