Colombia flooding continues with thousands homeless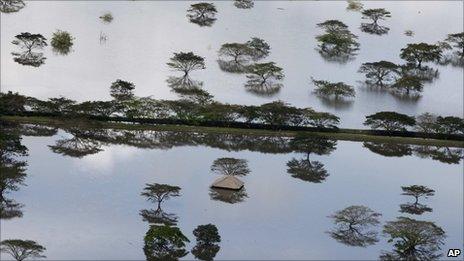 Heavy rains have continued to hit Colombia where two million people have been affected by widespread flooding.
President Juan Manuel Santos said nearly 1m hectares (3,860 sq miles) of farmland were under water, describing the situation as a "great tragedy".
A team of US army engineers is advising on how to repair a collapsed canal levee.
Across the country, nearly 300 people have died as a result of floods and landslides in recent weeks.
"We are doing everything we can. Have confidence and faith, and a bit of patience," President Santos appealed to Colombians.
He said the authorities were focusing on saving lives and dealing with emergency situations to ensure people had food, shelter and health care.
The government estimates that the floods, which have affected swathes of the country, have caused damage of up to $5bn (£3.2bn).
Dozens of roads have been been blocked or damaged by floodwaters or by landslides, according to the interior ministry.
More than 600 schools have also been damaged, leaving more than 300,000 pupils unable to attend classes.
Water is continuing to flood towns and land in northern Colombia where a levee along the Dique Canal that connects Cartagena Bay with the Magdalena River ruptured at the end of November.
The Colombian army has been involved in efforts to try to plug the 200m-wide (650ft) breach. Officials said a giant crane would begin operating to try to move bags of sand into the gap.
A team from the US Army Corps of Engineers has been asked to make recommendations on how best to repair the levee.
On Wednesday, President Santos was in the town of La Victoria in western Colombia with Ecuadorean President Rafael Correa, making his first visit since the two countries agreed last month to restore diplomatic ties.
Ecuador broke off relations in in March 2008 after Colombia forces bombed a clandestine Colombian guerrilla camp just inside Ecuador.
"We know that what we can give is very little," Mr Correa said as he handed over food supplies to families in La Victoria.
"They say friends are with you through thick and thin. And here's our friend, President Rafael Correa, making his presence felt, showing solidarity at such a difficult moment for Colombians," Mr Santos said.
Related Internet Links
The BBC is not responsible for the content of external sites.