Mexico murder protest mother Escobedo killed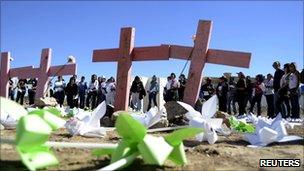 A Mexican woman who was campaigning for justice for her murdered teenage daughter has herself been killed.
Marisela Escobedo was shot dead by masked gunmen outside the state governor's office in Chihuahua in northern Mexico, prosecutors said.
She had been protesting against the release of the man accused of murdering her daughter in Ciudad Juarez in 2008.
Governor Cesar Duarte said he had no doubt the killing was an act of revenge by the alleged murderer.
He said he would seek to have the judges who released him removed from their posts.
Mrs Escobedo, 52, was shot in the head at close range by one of three masked men who approached her as she was protesting on Thursday evening. She died in hospital.
She had protested in Chihuahua and Ciudad Juarez since April, when judges released the man suspected of killing her 17-year-old daughter Rubi, saying there was not enough evidence to convict him.
Rubi's dismembered and burned body was found dumped in Ciudad Juarez in 2008.
The suspect, her boyfriend, joined the Zetas drug cartel after his release, Mrs Escobeda alleged in a newspaper interview last week.
Chihuahua state governor Cesar Duarte said the case filled him with "indignation".
"He confessed, he accepted guilt, and he revealed where the remains of Marisela's daughter's body could be found," the governor said.
"That's why nobody can understand the irresponsibility of these judges who gave freedom to someone who is such a danger to society."
The governor said he would ask the state congress to sack the judges concerned.
Ciudad Juarez, on the US border, is Mexico's most violent city, with more than 3,000 killings so far this year, most of them linked to drug-trafficking gangs.
The city is also notorious for the murder of hundreds of women over the past two decades.
Most of the victims were young and poor, and many were sexually assaulted before they were killed.
Few of the killers have ever been brought to justice.