Mexico disputes El Salvador claim of migrant abduction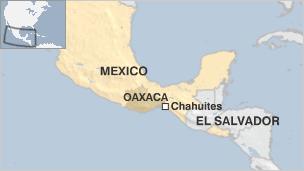 Mexico has disputed El Salvador's allegation that dozens of Central American migrants who stowed away on a cargo train were kidnapped by gunmen.
El Salvador had denounced the abduction of up to 50 Central American migrants in southern Mexico.
The Salvadoran foreign ministry said unidentified gunmen stopped a freight train in Chahuites, in Oaxaca state, last Thursday.
But Mexican officials say reports of the kidnapping are unsubstantiated.
The Mexican Institute of Migration said migration agents had boarded the train and made 92 arrests, but that after speaking to local and federal officials it had found no evidence of a kidnapping.
It said that there was no sign the train had been stopped or hindered in any way before the agents boarded the train.
But according to the director of a Catholic shelter for migrants, Father Heyman Vasquez, the migrants were taken after the agents had carried out their operation.
Father Vasquez told BBC Mundo that he had spoken to some of the migrants who reported escaping the kidnapping.
He said that 92 out of some 300 migrants on the train had been arrested by migration officials, but that shortly afterwards, the train was stopped by unidentified gunmen.
The migrants reported how the gunmen boarded the train, robbed and hit the stowaways with machetes, and took a group of them away at gunpoint.
Father Vasquez thinks between 30 and 50 were abducted. He says the gunmen took all the women who were on the train, as well as some men and children.
The Salvadoran consulate, which also interviewed some of migrants who had been on the train, believes the number of those kidnapped is about 50.
Asked whether there may have been an attack on the train after the migration agents boarded it, a spokesperson for the Mexican Migration Institute said that "there was no evidence of a kidnapping".
Migrants are often targeted by drug gangs looking for new recruits.
The attack comes just months after 72 migrants were found murdered in Tamaulipas state.
The 58 men and 14 women in that attack are believed to have been from South and Central America and had been trying to reach the US.
A survivor of that group said members of the Zetas cartel had opened fire after the migrants had refused to carry out assassinations for them.
The Salvadoran foreign ministry has warned its citizens not to travel through Mexico without proper documentation.
Related Internet Links
The BBC is not responsible for the content of external sites.