Brazil 'police gun-running gang' busted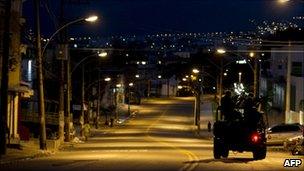 Police in Brazil say they have dismantled a criminal gang which is accused of running an arms trafficking and extortion ring in a poor neighbourhood of Rio de Janeiro.
Around 200 officers swooped into the Duque de Caxias area and arrested at least 20 alleged gang members, 13 of whom are policemen.
The gang is one of many originally formed to combat drug traffickers.
But police say these "militias" often end up running criminal enterprises.
Judicial authorities had issued 34 arrest warrants for the alleged gang members.
The warrants were based on wiretaps which suggest the gang sold weapons to drug dealers.
Two of those arrested are local councillors, who were elected in 2008 to represent the neighbourhood.
Police believe they ran the militia, while 13 police officers, two members of the military, five former police officers and a police constable made up its armed wing.
Fourteen alleged gang members are still on the run.
Analysts say around 60 of Rio's neighbourhoods are controlled by gangs once created to protect residents from drug gangs, but many of which are now running the extortion rackets once controlled by them.