Haiti PM criticises post-earthquake rebuilding efforts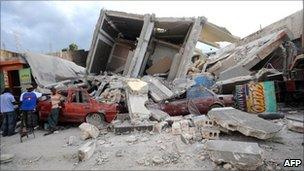 The prime minister of Haiti has criticised the international community for not allowing his country to play a bigger role in its own reconstruction following last January's earthquake.
Jean-Max Bellerive told the BBC his government had too little influence because aid money was channelled through outside agencies.
He added that only 20% of the aid pledged had been received so far.
Nearly one year on, more than one million Haitians still live in camps.
Mr Bellerive said donors and the international community were not working with Haitians to find solutions when channelling aid to those who need it. He said greater control of non-governmental organisations (NGOs) was needed.
"Let's be clear, I have nothing against NGOs - we need them. What I need is to have control over what they do in my country, where they do it and with whom they are doing it, and at what cost," he said.
Mr Bellerive said he was constantly being asked why there were no visible results from donated money.
"It's very difficult for me to give explanation for the use of money that I never receive," he said.