Strike over massive Bolivia fuel price rises begins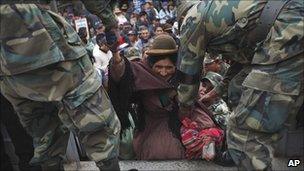 Transport workers in Bolivia have begun an indefinite strike, called in protest at an increase of more than 70% in the price of fuel.
Commuters struggled to reach the main cities, and army lorries were used to help people get to work.
The Bolivian government withdrew its heavy subsidies for petrol and diesel on Sunday, saying it was not prepared to keep fuel prices artificially low.
It said much of Bolivia's oil was being smuggled out of the country.
But the drivers' confederation, which groups together bus and lorry operators, said the price rise would have a negative impact that would be widely felt.
"This won't just affect the transport sector, this will affect everyone because all prices will rise," said spokesman Franklin Duran.
The country's vice-president said that it no longer made economic sense to subsidise an industry whose profits were flowing out of Bolivia.
"The subsidy of hydrocarbon products, which has gone up from $80m in 2005, to $380m in 2010 [...] instead of going to the exterior - instead of being an open vein of Bolivians that nourishes foreign interests - [...] should stay in the country to benefit Bolivians," said Alvaro Garcia Linera.
Fuel prices in the impoverished South American country, which had been frozen for almost a decade, will now rise by 73% for low-octane petrol and 83% for diesel.
The government has said it will compensate for the fuel price rise by increasing public sector wages and freezing utility bills.
But the sudden embracing of free market principles will be a tough test of support for the country's left-wing President Evo Morales, correspondents say.
Related Internet Links
The BBC is not responsible for the content of external sites.