No police in Mexico town after last officer kidnapped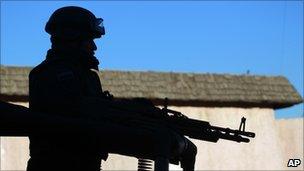 The Mexican border town of Guadalupe has been left with no police force after the last officer was kidnapped.
Erika Gandara's house was set on fire by unidentified gunmen before she was abducted last week, according to the state prosecutor's office.
All her colleagues had resigned or were killed in the region's drug war.
More than 30,000 people have died in drug-related violence since 2006 when the President announced a crackdown on the cartels.
Ms Gandara, 28, had patrolled the town of 9,000 inhabitants on her own since June.
"Nobody wants to go into policing here, and the budget just isn't there anyway," she told AFP news agency earlier this year.
Guadalupe is about 5km (3 miles) away from the US border and 60km (40 miles) from Ciudad Juarez, the centre of drug smuggling operations into the United States.
It is also close to the hamlet of Praxedis Guadalupe Guerreror, where a 20-year-old college student got the job of police chief in October because no one else applied.
The Mexican government has sent soldiers to patrol Guadalupe and to investigate the kidnapping of Ms Gandara.
Related Internet Links
The BBC is not responsible for the content of external sites.