Cuba commutes sentence of last death row inmate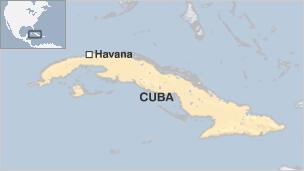 Cuba's Supreme Tribunal has commuted the sentence of the country's last death row inmate, a rights group has said.
Humberto Eladio Real, a 40-year-old Cuban American, was convicted of killing a man in 1994 during an attempted insurgency raid.
The Cuban Commission on Human Rights and National Reconciliation commuted his sentence to 30 years in prison.
Cuba has had an effective moratorium on carrying out death sentences for years.
Earlier this month, two other death row inmates also had their sentences commuted.
Ernesto Cruz Leon and Otto Rene Rodriguez Llerena, both from El Salvador, had been convicted over a bombing campaign of tourism sites in Cuba in the 1990s which killed one Italian and injured 11 other people.
They were sentenced to death by firing squad but their sentences were commuted to 30 years at a hearing on 7 December.
Cuba's last executions were in 2003, when three people convicted of attempting to hijack a boat to escape to the United States were killed by firing squad.
Two years ago, within a month of taking over the presidency from his brother Fidel, Raul Castro issued a decree lifting the death sentence for 30 prisoners.
In a groundbreaking deal brokered by the Roman Catholic church, Mr Castro has also agreed to free the 52 most prominent political prisoners on the island.
The majority are now with the families in Spain, but 11 are refusing to go into exile and have yet to be released, says the BBC's Michael Voss in Havana.