At least 45 injured in Buenos Aires train crash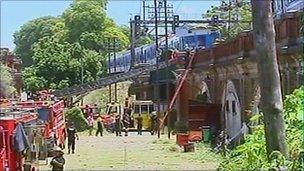 At least 45 people were injured when one passenger train crashed into another in the Argentine capital, Buenos Aires.
Realising a crash was imminent with a stationary train, the driver of the moving train applied emergency brakes, a rail official said.
He also left his seat to warn passengers to brace for impact.
Another 90 passengers suffered minor bruises and scrapes in the crash which occurred in Palermo district.
One of the injured is a woman seven months pregnant, officials at the Municipal Assistance Service (Same) said.
The 45 casualties were ferried by ambulance to hospitals around the city.
Giving details of the crash, Gustavo Gago, a spokesman for the privately run TBA railway network, said one train had stopped on a bridge and was hit from behind by another moving at a speed of between 30 and 40km/h (19 and 25mph).
Argentina suffered its worst rail disaster in 1970 when 142 people were killed and 368 injured at Benavidez, just north of the capital.
Related Internet Links
The BBC is not responsible for the content of external sites.