Marcela Temer 'steals show' at Brazil inauguration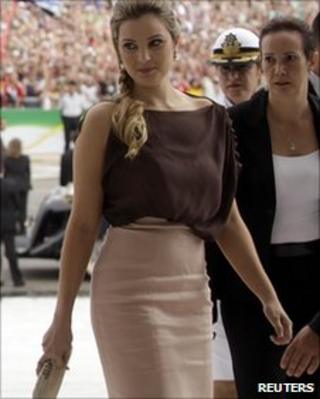 Former Brazilian beauty queen Marcela Temer has caused a media sensation with her appearance at the inauguration of President Dilma Rousseff.
The swearing in of Brazil's first female president on New Year's Day was hailed as a landmark for women in the country.
But according to some Brazilian newspapers, the glamorous wife of Vice-President Michel Temer stole the show.
Photos of the couple have been spread across local media ever since.
Mrs Temer's appearance has also been one of the most commented subjects on the social networking website Twitter.
In Brazil, the Estado de Sao Paulo newspaper said the 27-year-old blonde looked like a "Roman goddess" when she appeared alongside her 70-year-old husband and President Dilma at the inauguration ceremony.
Some commentators have compared her to the former model and pop star wife of French President Nicolas Sarkozy.
But Mr Temer has responded in good humour, insisting that "she is not the Brazilian Carla Bruni".
Mrs Temer, who was Miss Campinas and came second in the Miss Sao Paulo competition in 2002, trained as a lawyer after marrying Mr Temer in 2003.
She played an active role in Dilma Rousseff's campaign for the presidency, appearing on videos in which she backed a stronger role for women in Brazilian society.