Baseball's Alfredo Simon on Dominican shooting charge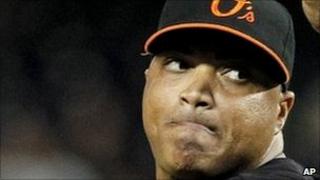 Dominican Republic baseball star Alfredo Simon has surrendered to police to face charges he shot a man dead during New Year's Eve celebrations.
Mr Simon is accused of killing Michel Castillo, 25, and wounding his 17-year-old brother in the town of Luperon in the northeastern Dominican Republic.
His lawyer said he had fired celebratory shots in the air, but did not believe he had hit the two men.
Mr Simon, 29, is a pitcher for the Baltimore Orioles in the US.
Police initially said he would be charged with murder, but public prosecutor Victor Mueses told the Associated Press that evidence supported a lesser charge of involuntary manslaughter.
"The version we have is that there was a dispute between two women and he tried to break it up, fired a shot that ended up wounding a young person in the arm, and that same bullet lodged in the chest of the deceased," the prosecutor said.
Mr Simon's lawyer, Carlos Olivares, said his client had fired random shots in the air with local youths.
But he said he believed he could not have been responsible for shooting Mr Castillo because he was hit in the chest.
"We are giving the weapon to the police so they can do the necessary ballistics tests," the lawyer said.
He added that the dead man was Mr Simon's cousin and they were close.
In the Dominican Republic - as in some other Latin American countries - people sometimes fire into the air to celebrate new year and other festivities.
The Dominican Republic supplies more players to US Major League baseball than any other country outside the US.