US man given 15 years for 1968 Cuba hijack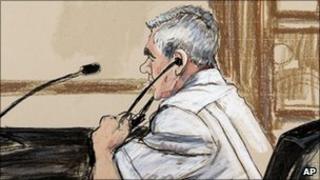 A US man of Cuban origin has been sentenced to 15 years in jail for hijacking a plane from New York to Cuba in 1968.
Luis Armando Pena Soltren, 67, boarded the Puerto Rico-bound plane with a pistol and a knife.
He forced the pilots to divert the plane, carrying 103 passengers and crew, to Havana.
Pena Soltren returned to the US from Cuba in 2009 reportedly to see his family. He pleaded guilty last March.
He was charged with conspiracy to commit air piracy, interfering with a flight crew and kidnapping.
He will not be eligible for parole.
'Strict sentence'
Pena Soltren had been remorseful for decades, his lawyer said, and had asked for leniency.
The lawyer argued Pena Soltren had only taken part to visit his father in a Cuban hospital and had since lived an honourable life.
However, Judge Alvin Hellerstein said: "People have to respect the law. Sometimes it's important to have a strict sentence.
"Hijacking is a frightening crime. I tried to imagine how I would feel if someone put a knife to my throat and a gun to my back and I wonder how many nightmares would follow."
Judge Hellerstein added: "Though you have expressed remorse I wonder if, even in the private moments you have with God, whether there can be enough remorse."
Through a translator Pena Soltren said he wanted to "express my remorse" to "all those people who felt threatened by my desperate attack".
After several minutes he slumped on his chair crying, and there was an emotional exchange with his wife and daughter as he was led away.
His two accomplices, Jose Rafael Rios Cruz and Miguel Castro, were sentenced to jail terms of 15 and 12 years respectively after they were arrested on return to the US in the 1970s.
In the 1960s and early 1970s, dozens of US planes were hijacked and diverted to Cuba as the Cold War enmity with Cuban leader Fidel Castro intensified.