Row over Venezuela ex-leader Perez's burial rekindled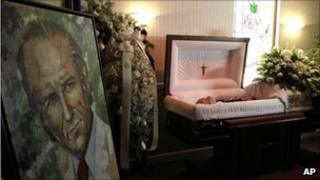 A dispute over where to bury former Venezuelan president Carlos Andres Perez has been rekindled after some of his relatives denied agreeing to have the body transferred to Caracas.
His partner, Cecilia Matos, said she would ask a court in Miami, Florida, to stop plans for a burial in Venezuela.
Ms Matos had reportedly agreed to a request by Mr Perez's estranged wife to have him buried in Caracas.
Mr Perez died of a heart attack in Miami on 25 December, at the age of 88.
The row erupted soon after the former Venezuelan president's death.
Cecilia Matos and her two daughters from her relationship with Mr Perez had wanted to bury him in Florida, his home for more than a decade.
But his estranged wife, Blanca Perez, wanted him to be buried in Venezuela and obtained a court order to block plans to have him laid to rest in Miami until the dispute was resolved.
Family feud
Last week, the dispute seemed to have resolved itself when Ms Matos reportedly dropped her opposition to having her partner's body flown to Caracas.
She was reported as saying that returning him to Venezuela would be a way to pay tribute to him.
But lawyers for the Miami-based relatives have now denied such an agreement had been reached.
Carolina Perez, one of Mr Perez's daughters from his marriage in Venezuela, said that all they wanted was for their father to come to Venezuela and "for his soul to rest in peace here, in the country in which he fought all his life".
She said the matter would now be handled by the family's lawyers.
Rocky presidency
Mr Perez served as president of Venezuela between 1974 and 1979, and again between 1989 and 1993.
His first term was marked by a transformation of Venezuela's economy because of a sudden increase in oil revenues. His second was marred by allegations of corruption.
Forced to leave office in 1993, he was then sentenced to 28 months in prison for the misappropriation of millions of dollars in public funds.
He spent the first few months in a jail in Caracas, but was then allowed to serve the rest of his term under house arrest. Mr Perez always denied any wrongdoing.
He survived two coup attempts in 1992, the first of which was led by current President Hugo Chavez, who was then a young army lieutenant colonel.
Based in Miami, Mr Perez fought demands by the current government in Caracas to extradite him to stand trial for his role in putting down riots in 1989.