Brazilian TV reporter Forlin arrested over gang links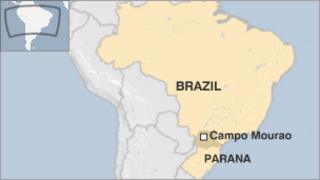 Police in Brazil have arrested a television reporter accused of passing on police information to a criminal gang, in exchange for tip-offs on the murders they were about to commit.
Maritania Forlin, 28, was arrested after police recorded phone calls between her and the man accused of being the gang leader.
In one of the calls she complained to the man about the lack of recent homicides to report.
Her lawyer has not yet commented.
'Gang links'
Ms Forlin, who worked for the Independent Communications Network, was arrested at her home in the southern Brazilian city of Campo Mourao, in Parana state.
Police say Ms Forlin and 16 other people with suspected links to the drug-trafficking gang had been under surveillance for three months.
They accuse Ms Forlin of passing on confidential police information she gathered from news conferences and police radio frequencies to the gang.
Police say that, in return, the gang would tip her off about its planned actions, allowing her to be the first reporter at the scene of the crime.
Ms Forlin worked for the Independent Communications Network, but was dismissed two months ago as part of a routine restructuring in the station, her former boss told local media.
Police say the gang she allegedly had links to is responsible for almost all of the murders carried out in Campo Mourao last year.
The arrest comes little over a year after Brazilian TV host Wallace Souza turned himself in to police after he was accused of ordering killings to boost his programme's ratings.
Mr Souza died in prison while awaiting trial in July 2010.