Deal ends Chile Magallanes gas protest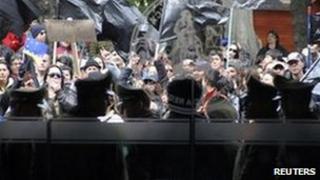 The government of Chile has reached a deal to end protests in the far south of the country over a hike in natural gas prices.
The proposed 17% increase had outraged residents of the Magallanes region of Patagonia, who depend on cheap gas to cope with icy conditions.
But after a week of road blockades that trapped hundreds of tourists, the government cut the increase to just 3%.
It also agreed to increase subsidies for poorer families.
Chile's Mining and Energy Minister Laurence Golborne travelled to the regional capital of Punta Arenas to negotiate an end to the dispute.
"We have reached a wide-reaching agreement to put an end to the protest in the Magallanes region," he said.
Hours earlier, Mr Golborne was protected by police with riot shields after around 1,000 protesters converged on a radio station where he was being interviewed.
The protests erupted after Chile's state-owned National Petroleum Company (Enap) decided to reduce local subsidies from February, which would have increased natural gas prices by nearly 17%.
Cold temperatures in Magallanes and the Chilean Antarctic mean households require more heating and the cost of living is higher than in the rest of Chile.
Argentine concern
Demonstrators blocked main roads and ports, hitting the region's tourist trade.
Some 3,000 visitors who were visiting the area, including Chile's biggest tourist attraction, the Torres del Paine national park, had been stranded in the region. Most have now managed to leave, either by plane or bus.
Several trade unions had also been threatening to join the protest.
Argentina had voiced concern at the situation in its province on Tierra del Fuego and called for the rapid reopening of access routes to the island, which pass through Chile.