Jhonattan Vegas gives Venezuela first big golf win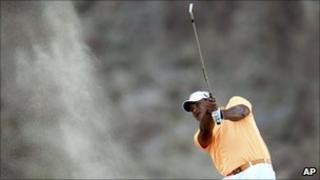 Venezuela has been celebrating after golfer Jhonattan Vegas became the first Venezuelan to win a major tournament.
Vegas, 26, the only Venezuelan to play on the US professional circuit, clinched a dramatic victory at the Bob Hope Classic in California on Sunday.
The golfer said he hoped his win would change the way golf is viewed in baseball-mad Venezuela.
President Hugo Chavez, who calls golf a "bourgeois" pastime, says courses should be used for houses for the poor.
Jhonattan Vegas , making only his fifth start in a PGA event, secured his win after a play-off in the Bob Hope Classic in La Quinta, California.
"Having won this tournament in the PGA tour is a dream come true," said Vegas.
He said he hoped his win would help to change Venezuelans' view of the sport.
"I hope that with this triumph we will change... little by little, so that golf becomes the most popular sport in Venezuela."
Broomstick
That may be a tough task. Unlike much of South America, where the main sport is football, Venezuelans are crazy about baseball.
Golf has also been a target of criticism by President Chavez who has said it is just for the rich.
He has called on golf clubs to hand over their land so families made homeless by recent floods can be housed there. The flooding, which affected thousands of people, exacerbated a housing shortage in the capital, Caracas.
However, Julio Torres, who runs Venezuela's national golf school, said he hoped Jhonattan Vegas's win would change perceptions of golf as just for an elite.
"We'd like people in government who still don't like golf to realise it's not like that," Mr Torres told Reuters news agency.
Vegas began playing golf with a broomstick and a rock and learned much from his father, Carlos, who worked as a caddy.
He moved to the US in 2002, where he studied at the University of Texas. He turned professional in 2008.