Brazilian clown Tiririca takes elected seat in congress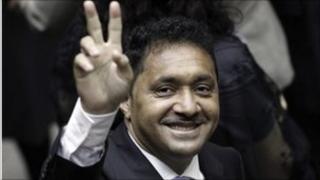 Brazilian TV clown Tiririca, who won more votes than any other candidate in last October's congressional elections, has been sworn into office.
Francisco Oliveira Silva, to give him his proper name, was applauded as he took his seat alongside other new members of congress in Brasilia.
He was cleared to assume office after a court ruled he met the literacy requirement for public office.
President Dilma Rousseff's 10-party coalition controls some two-thirds of the seats in the new congress.
Former president Jose Sarney, whose PMDB party is one of the biggest members of her coalition, was re-elected head of the senate for the fourth time.
His position and that of president of the chamber of deputies are key in settling the legislative agenda, correspondents say.
Last October's saw all 513 federal deputies elected as well as 54 of the 81 Senate seats.
Celebrity candidates
Mr Oliveira Silva, whose stage name means Grumpy, was elected with more than 1.3m votes after campaigning with slogans such as: "It can't get any worse."
His victory was challenged after newspapers reported that he could not read or write - but after he passed a basic literacy test, a judge in Sao Paulo ruled that he could take up his seat.
The TV performer said he was not surprised by the warm welcome he received in Congress.
"Given my artistic background, I was expecting it," he was quoted as saying by Brazilian media. He said the atmosphere was not "boring" and he could "survive the four years of his mandate".
He was one of several celebrities from the world of sport and entertainment who were elected to Congress, including former footballer Romario.
The way the chamber of deputies is formed - by an open-list proportional representation system - makes it easier for celebrity candidates to win office.