Cuba charges US citizen Alan Gross with spying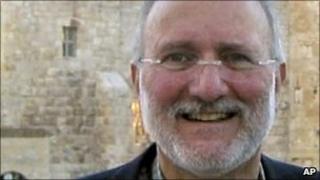 Cuban prosecutors are to seek a 20-year prison sentence for US citizen Alan Gross, who is accused of spying.
Mr Gross, 61, has been charged with plotting against the state and his trial date will be set soon, Cuban state media reported.
The US, which insists Mr Gross is an aid worker not a spy, said it "deplored" the decision.
Washington has previously said there would be no major initiatives on US-Cuba relations until he was released.
Mr Gross was arrested in Havana in December 2009 and held without charge for 14 months.
He was working for the Cuba Democracy Programme, a US government programme aimed at promoting political change in Cuba.
The communist authorities consider this a subversive activity, and they allege that he was distributing illegal satellite equipment to Jewish community groups.
Hope
Now he has been charged with "acts against the independence and territorial integrity of the state", a government statement published in the communist party newspaper Granma said.
The US government had been informed and his lawyer and relatives would be allowed to attend the trial, the statement added.
Washington has repeatedly said that there can be no major initiatives towards improving relations until he is freed.
US officials have previously expressed hope that he will be sent back to the US once his trial is over.
His case has put a brake on President Barack Obama's efforts to improve US-Cuba relations, which have been hostile since the 1959 Cuban revolution.
Cuba has long been demanding the return of five of its citizens who have been in jail in the US on spying charges since 1998.