Haiti's ex-leader Aristide 'seeks no political role'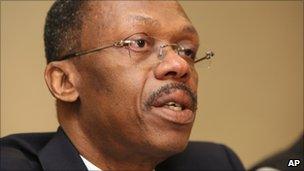 Haiti's exiled former president, Jean-Bertrand Aristide, wants to dedicate himself to education not politics, his lawyer has said.
Ira Kurzban was speaking to the BBC after collecting a diplomatic passport for his client in Port-au-Prince.
Mr Kurzban said Mr Aristide, ousted in 2004, had long wanted to come home.
Mr Aristide's possible return comes amid continuing uncertainty in Haiti, with the presidential election set for a delayed second round in March.
Mr Kurzban, Mr Aristide's Miami-based lawyer, flew to the Haitian capital on Tuesday to pick up his client's diplomatic passport.
The Haitian authorities had earlier said the formalities had been completed and the passport issued.
Mr Kurzban did not indicate when Mr Aristide, who has lived for the past seven years in South Africa, might travel back to Haiti.
But, in a BBC interview, he insisted that Mr Aristide's return would not be a destabilising factor, nor was it political grandstanding.
"The vast majority of Haitians want to see Jean-Bertrand Aristide back in Haiti," Mr Kurzban said.
Mr Kurzban said his client, who wanted to be involved in Haiti's education system, had repeatedly asked to be allowed to return home since being forced into exile in 2004.
Speculation had grown that Mr Aristide would attempt to come back to Haiti after the surprise arrival last month of another former president, Jean-Claude "Baby Doc" Duvalier, after 25 years in exile.
Mr Aristide, a former Catholic priest, was Haiti's first democratically elected president, first coming to power in 1990 but serving only months before a coup removed him from office.
He returned in 1994, serving his term until 1996.
Mr Aristide was re-elected in 2000 but was forced out of power in early 2004 after several months of political turmoil.
His party, Fanmi Lavalas, was barred from standing in the current election, allegedly due to technical errors in its application forms.
Last week, election officials ruled that the run-off vote in the presidential election would be between former First Lady Mirlande Manigat and singer Michel Martelly next month. It had originally been scheduled for January.
The first round, which international monitors said was rigged in favour of government-backed candidate Jude Celestin, triggered widespread protests.