Peru vaccination drive targets bat-borne rabies
By Dan Collyns
BBC News, Santa Maria de Nieva, Peru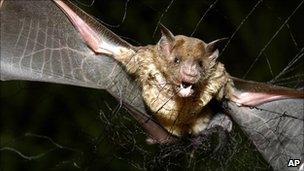 The superstition about bats turning into vampires to suck the blood of unwitting human victims has not reached Condorcanqui province on Peru's northern jungle border with Ecuador.
But here, on the fringes of the Amazon rainforest, the native vampire bats are to be feared as some carry the rabies virus.
It was here that five children died in the latest rabies outbreak last September. Around 20 rabies deaths have been blamed on bats in Peru over the past year, which health officials say is one of the highest numbers in a generation.
But while they do not believe in vampires, the Awajun and Wampis indigenous peoples - who have inhabited this land on the edge of the Amazon basin for centuries - have tended to look upon vaccinations as the work of the devil.
"Sometimes they think the rabies symptoms are caused by witchcraft and the vaccination isn't going to cure them," says nurse Milagros Gastello. She travels with other health workers by boat to villages that can be more than a day from the nearest town.
"They would rather be treated with their native plants, or by a witch doctor, than let us give them an injection."
But it used to be even harder to carry out health campaigns, says obstetrician Jenny Oliva, who has spent the past 10 years working out of Condorcanqui's tiny provincial capital, Santa Maria de Nieva.
"When I began work here in 2000 there was a total rejection of vaccinations. We'd knock on the door of a house and if they delayed in answering we would know that they were escaping out of the back door."
But after outbreaks of yellow fever and hepatitis B in remote communities along the Maranon and Santiago rivers, there is more acceptance of government health teams carrying syringes.
Nowadays, many health workers who visit schools are native Awajun speakers and can teach children - in their first language - to beware of bats.
Almost without exception, the victims of bat-borne rabies have been children. In typically large families, the parents usually sleep with the youngest child under a mosquito net while older siblings are left exposed in open-walled chozas, or traditional palm-thatched huts.
"My son was scared, he wept, he was terrified. He said he saw horses, devils, snakes. That's what he was telling me. The doctor told me it was rabies," says Oscar Huivin.
His four year-old son died from bat-borne rabies in July 2010. Mr Huivin is still choked with shock, grief and, it seems, guilt. He admits he did not have his family vaccinated.
The rabies virus attacks the central nervous system and the brain. The symptoms include sensitivity to light, fear of water and hallucinations.
After the death of the five children, people became much more accepting of vaccinations.
"We are scared, of course. We could be infected by the bats and die," says Narcisa Arevalo, a mother of five, at a vaccination drive in her village of Achuoga.
"We worry about the children especially as they don't have mosquito nets - that's what we need. Having mosquito nets would save the children's lives."
In Peru's National Health Institute in Lima, researcher Edgar Condori uses samples of rabies-infected bat brain to sequence the virus's DNA. Cross-referencing with previous samples he tracks how the virus is evolving. It is hoped that one day this research could help prevent future outbreaks.
Vampire bats are found throughout Peru, yet cases of bat-borne rabies in humans have been mainly in jungle areas.
Working to control the spread of rabies-infected bats in Condorcanqui is health ministry vet Luis Castillo. He says human pressure on the forest has caused "an imbalance in the food chain which means vampire bats have far fewer natural predators".
This, coupled with more cattle farming, he adds, means the bat population is expanding.
"As for environmental factors driving rabies, the links are still not terribly well understood," says Daniel Streicker from the University of Georgia's Odum School of Ecology in the US, who spent much of 2010 studying vampire bats in different parts of Peru.
Mr Streicker explained that in areas where livestock is abundant, the domestic animals act as a kind of "buffer", generally meaning fewer cases of bats biting humans.
But at the same time, a lot of livestock could support bigger bat populations, which could then mean that the bats that do bite humans have a greater likelihood of carrying the rabies virus, he said.
And when people push into relatively pristine areas, they may also be encroaching on the bats' habitat, Mr Streicker says.
The location of previous rabies outbreaks appear to support this hypothesis. In 2007, Peru's south-eastern Amazon region of Madre de Dios, where migration goes hand-in-hand with illicit gold mining and logging, saw a number of deaths from bat-borne rabies.
As long as human migration remains the principal cause of deforestation and habitat loss in the Peruvian Amazon, it is quite possible that the severity of future outbreaks will be even harder to predict, let alone prevent.