French kidnapper Florence Cassez's Mexico appeal fails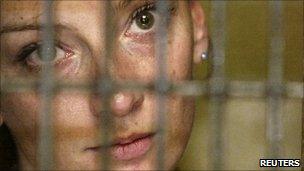 A Mexican appeals court has upheld the conviction of a French woman, Florence Cassez, whose imprisonment for kidnapping has caused friction between the two countries.
The court said prosecutors had proved Ms Cassez guilt in three kidnappings in 2005 and her 60-year sentence would stand.
She has always pleaded her innocence.
France has warned that the decision to keep her behind bars will weigh on bilateral relations.
"I am appalled by the court's decision to back the judge's ruling on Florence Cassez," French Foreign Minister Michele Alliot-Marie said in a statement.
"It is a denial of justice."
She added that France would do everything it could to seek her release.
The case of Florence Cassez, 36, has long been controversial in both Mexico and France.
She was arrested in 2005 at a ranch near Mexico City where three kidnapping victims had been held for two months.
One of the victims was only eight years old.
It later emerged the arrest, as seen by the public, was in fact a re-enactment staged by the police for the media.
Ms Cassez has always said her only connection with the case was that she was the girlfriend of the leading kidnapper.
But her victims identified her, and said she took an active role in their abductions.
In the appeal hearing her lawyers argued that her trial had been prejudiced from the start because she had been paraded in front of the media as guilty.
But the court rejected that argument, saying that the television footage was not formally considered during the trial.
Her lawyers also cast doubt on the testimony of the kidnap victims who identified her.
Mexico has one of the world's highest kidnap rates, with victims sometimes murdered even after ransoms have been paid, and Ms Cassez's case has attracted little public sympathy.
But many people in France believe she is innocent, and in 2009 President Nicolas Sarkozy pleaded for her to be allowed to serve her sentence in a French jail.
Related Internet Links
The BBC is not responsible for the content of external sites.