Cuba releases political prisoner Eduardo Diaz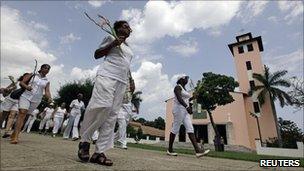 The Cuban government has freed a political prisoner, Eduardo Diaz, who had refused to go into exile in Spain.
The Roman Catholic Church said another dissident, Hector Maseda, was also to be released.
The two prisoners were among 52 dissidents the Communist authorities agreed to free in July last year in a deal brokered by the church.
Their release had been on hold because they would not agree to leave the island.
Meanwhile, the church says another four dissidents not on that list and who were convicted of violent crimes are due to be released in the coming days.
Mr Diaz, 60, has returned to his home in a village in the western province of Pinar del Rio.
He said he would continue to campaign for democratic change in Cuba.
"This has got to change. It can't go on, the country is bankrupt," he told the Reuters news agency.
"It is really painful that they had us kidnapped in prison for eight years for peaceful campaigners," he added.
If Mr Maseda's release is confirmed, it would leave just eight of the 52 still behind bars.
Most of the group were released in the weeks after last year's agreement and went into exile in Spain.
Another, Guido Sigler, was freed last week and is applying to go to the US.
The 52 dissidents had been in jail since 2003, when they were arrested along with 73 other opposition figures in a government crackdown.
Hector Maseda, 67, is a journalist and former nuclear scientist whose wife Laura Pollan is a leader of the Ladies in White group of wives and daughters of political prisoners.
The Cuban authorities generally refer to the detained dissidents as common criminals or mercenaries paid by Washington to destabilise the communist system.
The release of political prisoners has been a key demand of the US and EU if economic ties are to be improved.
Opposition groups say there are still around 100 political prisoners in Cuban jails.
Related Internet Links
The BBC is not responsible for the content of external sites.